ecoholidays
alhambra vistas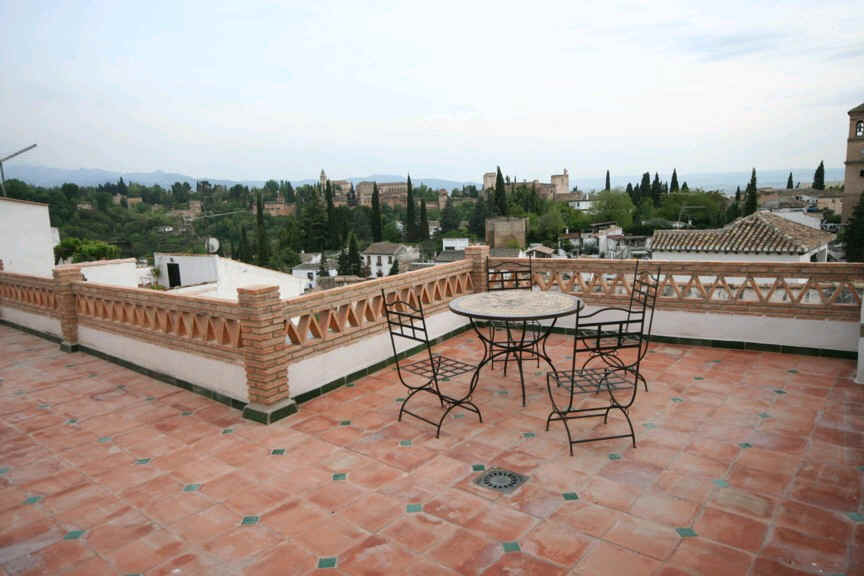 property description: Enjoy your Granada vacation! Stay in beautiful holiday apartment and house rentals in the historic Albaycin district, City of Granada, Andalusia, with broad vistas of the Alhambra Palace, Generalife, and Sierra Nevada mountains. Centrally located in the upper Albaycin near El Salvador Church, Plaza Larga with its cafes and restaurants, San Miguel Park, Sacromonte (home of flamenco shows & classes), and the culturally-rich surroundings of this exquisite UNESCO World Heritage Site, these upscale flats and house rentals provide for a complete self-catered vacation.

Arrange lodging at spacious Casa Azahar, including two different apartment options (one- and two-bedroom flats) both with access to a professional kitchen. Neighboring at Calle San Luis is a charming small house with 3 bedrooms, kitchen, and terraces. Alhambra Vistas is a member of Canticum Hotels and Casa Azahar a sister to the Inn at Coyote Mountain (Costa Rica) and Trout Point Lodge (Canada), assuring you of the highest quality accommodation and vacation apartment experience.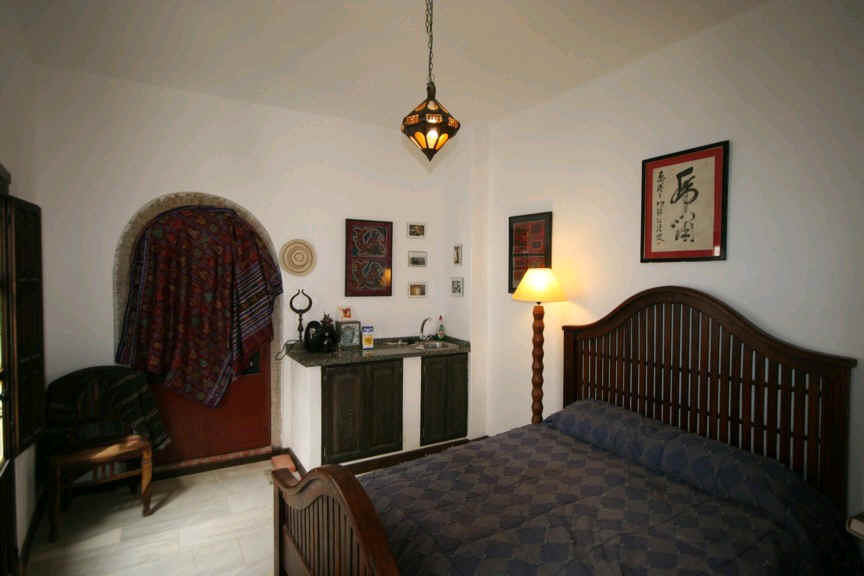 We can also arrange cooking lessons at the adjacent Mediterranean Cooking School as well as language, flamenco, history, and culture classes in the vicinity. Excursions to Seville, Cordoba, Cadiz, and Ronda are available on request. Combined language, culinary, and culture classes can be arranged at the nearby Renaissance city of Ubeda, in cooperation with Abadat Spanish Language School.

We can also assist with travel arrangements, Alhambra tickets, Spanish language instruction, and recommend other apartment rentals in the Albaycin.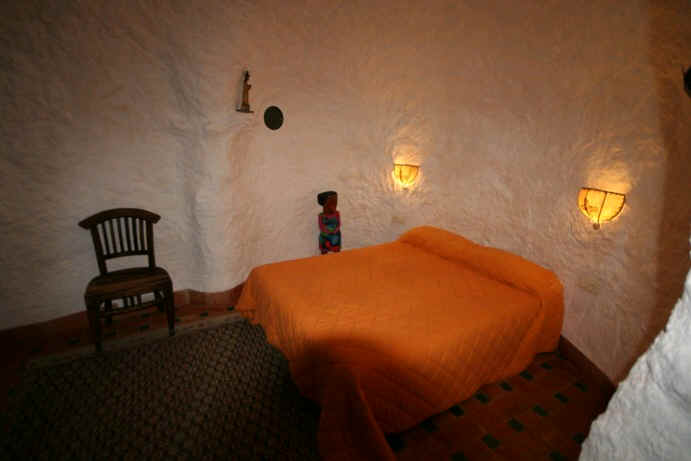 All apartments are tastefully decorated with hand-carved wooden furniture and original artwork. Vacation apartment and house rental options include:
Casa Cueva apartment with 2 bedrooms (queen size beds), full bath with handpainted tiles, living room, television, stereo, refrigerator, coffee maker, rooftop terrace, Alhambra views, near Sacromonte & flamenco. Optional access to professional kitchen.
Loft View apartment with 1 bedroom (queen bed), marble floors, television, stereo, kitchenette, loft living room with 2 single sofa beds, views to the Albaycin and Alhambra from the living room, upper terrace with dramatic views. Bathroom on 2nd floor with shower; second 2-piece bathroom on ground floor, across courtyard
Loft View and Casa Cueva can be combined to form one, large apartment
House rental, including two bedrooms, terraces, and kitchen.


Casa Azahar is located in one of the most historic parts of the Albaycin, close to both cultural attractions and nature parks. Casa Azahar was completely renovated in 2006.
the area: "Granada has everything to offer, from the Alhambra and the Albaicin to the intimate corners of nineteenth century Romanticism; from the enchatment of Oriental art to the dawn of the Gothic; from the flowering of the Renaissance to the exuberant brilliance of the Baroque. And if, from the point of view of the Arts, this rich diversity is overwhelming in its vitality without the dominance of one unilateral theme, Nature for her part provides analagous contrasts. In some places there is ruggedness, in other a delicacy full of half-tones; here is a city neither of the mountain no of the plain. The Sierra and the lowland intertwine in a stange arabesque and this gives the landscape both strenth and extraordinary variety. From the foot of the mountains to their summit there is an ascent of more than three thousand meters and from the region of perpetual snow it is possible to descend, in barely an hour, to a coast where every tropical fruit abounds. It would be difficult to find a land richer in variety and contrasts or one evoking emotions of greater depth and diversity."
Antonio Gallego y Burin, Granada: An Artistic and Historical Guide to the City
getting here: Traveling to the historic city of Granada, Spain is easy. Options include direct flights, train, and car rental.

Granada Airport is now served not just by Iberia, the national carrier, from Barcelona and Madrid, but also by Air Europa, Spanair, RyanAir, and Monarch Airlines as well, with direct flights from and to the United Kingdom.

A taxi ride from the airport to the Albaycin is currently 25 euros.

The RENFE train station is downtown. A taxi from there to Calle San Luis, about 5-7 euros.

To see a detailed pdf map of Granada, click on the link below. Calle San Luis is located in quadrants 3 & 4 E. Calle Cruz de La Rauda is one street east of Calle San Luis. Casa Azahar's rental apartment entry is off of Calle Cruz de la Rauda, which is off Calle San Luis. Entry is by Plaza Cruz de Piedra (quadrant 3E).
sustainable tourism: The Cave House -- Casa Cueva -- and kitchen cave provide natural and excellent insulating properties for energy conservation using a totally sustainable construction technique.
Hiring locally as a way to support the local community
Separation and recycling of plastics, glass, and paper
Composting of organic wastes for use in the herb and flower gardens
Having guests to use towels over more than one day, thus cutting down on detergent, water, and electricity use
Having guests bring their own amenities instead of using packaged containers
Laundering sheets and towels only on upon check-out, unless requested sooner, saving energy, water, and detergents
Line-drying laundry instead of using an electric dryer
Use of energy-efficient lighting and refrigeration
Providing guests with information about the local environment and the nearby nature parks
Encouraging low-impact enjoyment of the local natural areas amongst guests
Encouraging guests to visit Granada's parks and protected areas
Utilizing high ceilings, cross-ventilation, and overhangs for cooling the conventionally constructed building, and not using any mechanical systems for air conditioning
Designing the building to utilize natural light in guest and public areas whenever possible so that electric lights are not required except at night
Purchasing locally-grown food products whenever possible
Maintaining on-site organic and sustainable herb gardens
Supporting other local businesses through purchasing
The use of natural materials in constriction and for finishes, such as linseed oil and calcium carbonate
Making minimal use of paper products for marketing efforts--reliance on the web site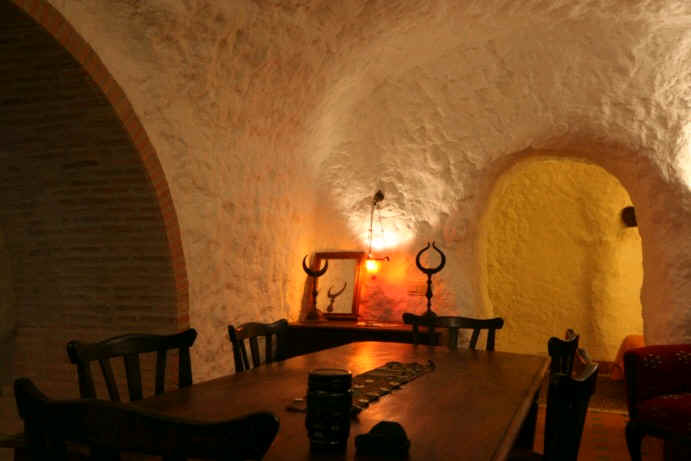 payment details: We accept payment by check or cash, and major credit cards using PayPal. Charges and prices are in euros. We can also accept bank wire transfers. Please e-mail us for information.

A 50% deposit (non-refundable after 7 days) is due upon making the reservation for your Granada vacation rental, and the balance is due 21 days before arrival. Most commonly, we will bill you using PayPal once we receive your request. Alternatively, you can make arrangements to send a check or bank transfer for the apartment.
contact details: please contact owner for further details

Email: info@alhambravistas.com