Bunk House at Zion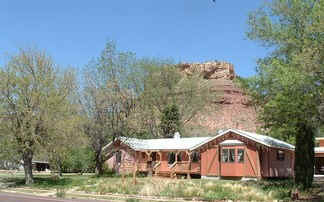 property description: Whether you call it ECO, EARTH FRIENDLY, GREEN, ENVIRONMENTALLY RESPONSIBLE, ETHICAL, ALTERNATIVE, VEGETARIAN OR ORGANIC, Bunk House at Zion Bed and Breakfast is a simple, cozy retreat nestled within the canyon walls of Zion in the Virgin River Valley. Surrounded by orchards, pastures, gardens and majestic red cliffs, our home offers a quiet, peaceful atmosphere and a low-impact consciousness. We are 10 minutes from ZION NATIONAL PARK and 2 1/2 hours from Las Vegas, in Southwestern Utah, which is a part of the Colorado plateau, and along the Grand Circle tour of Utah National Parks. Bryce Canyon and Grand Staircase Escalante National Monument are within 2 - 3 hour drive from us. If you enjoy rural touring, there are many backcountry roads all around us. Come and REST, RELAX, and RECHARGE while we REDUCE, REUSE & RECYCLE.
12-STEP SPOKEN HERE.
WE REDUCE and REUSE
by using cloth shopping bags, washing and reusing our plastic produce bags
by using water saving faucet attachments, shower heads, and soaker hoses
by heating only the hot water we are using
by replacing all of our appliances with Energy Star appliances
by using recycled paper products in our office, kitchen and bathrooms
we recently remodeled our front porch using 100 year old reclaimed wood from a Salt Lake railroad trestle
WE RECYCLE
Locally we can recycle aluminum cans, newspapers, cardboard, food cans, & #2 plastic bottles.
Glass, paperboard, junk mail, office paper, other aluminum and mixed plastics that we used to have to drive to Las Vegas ourselves are being picked up by a new local recycling service.
WE CARE FOR YOUR ENVIRONMENT and OURS
We usually MOW using a "one-woman power"old fashioned reel type push mower.
We use ENVIRONMENTALLY RESPONSIBLE CLEANING PRODUCTS from the detergent your linens are washed in to the soap in your bathroom.
We have recarpeted with PET recyled pop bottle carpet and pad.
Over 30% of our power is purchased from CLEAN RENEWABLE wind POWER.
We grow, bottle, dry and sell our own ORGANIC FRUIT & NUTS.
We BUY LOCALLY GROWN AND ORGANIC whenever possible.
We SERVE our own ORGANIC fruit, jams, granola, yogurt and baked goods.
We are "low-impact"; dedicated to conservation, recycling, co-ops, credit unions, organic growing, and sustainability. Evenings you may find us drying or bottling our organic fruit, shelling nuts, or even darning socks!
The Orchard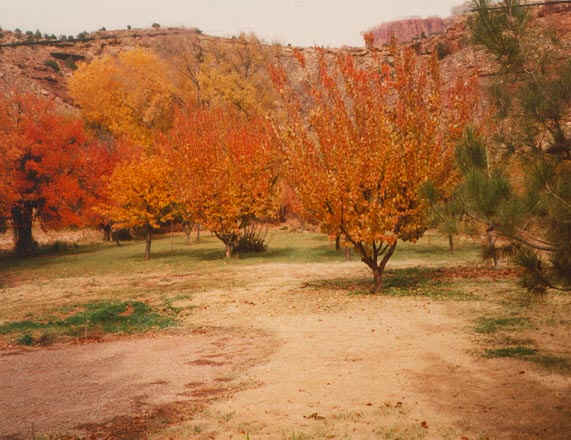 accommodation: We have 2 rooms, the Country Room and the Southwest Room. Both rooms have a queen size bed. ROOM RATES: High season:$55-$80/night double occupancy. High Season is from the Easter Holiday through the Columbus Day Holiday in October. Off season DISCOUNT: $45-$75.
The Southwestern Room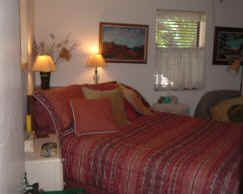 The Country Room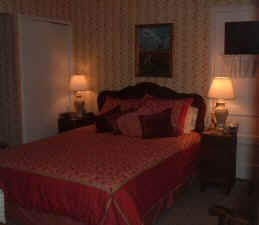 area attractions:
Bunk House at Zion is located in the heart of Color Country. Listed below are many area attractions within a 1-2 hour drive.
Zion Canyon is home to a thriving artist community featuring works by composers, potters, painters, photographers, sculptors and writers. Many of their works can be found in area shops.
What else to Do
Hiking -- Biking -- Walking -- Touring -- Boating -- Fishing -- Horseback Riding-- Relaxing -- Shopping -- Golfing -- Photography -- Bird Watching
What else to See
Zion Natural History Association - Zion Canyon Field Institute--seminars on various aspects of Zion National Park and the desert southwest.
Zion Canyon Giant Screen Theatre - showing "Zion Canyon Treasure of the Gods" and other large format films. Large screen format 6 stories high and 80 feet wide with Dolby surround and DTS sound. The large screen shows the beauty, adventure and magic of Zion National Park. The 40 minute film takes you through terrifying flash floods and on rock climbing expeditions where you'll hang from your fingertips 2,000 feet above the earth. A live show and recent Hollywood movies are presented in the evenings. For tickets and information call (435) 772-2400.
Grafton Ghost Town 15 Minutes
World Senior Games October 2-15, St George, 45 minute drive
Tuacahn Theater World-class entertainment and arts center with summer festival of theater. Tickets, location, shows, and dinner theater information 1 hour drive
Zion Factory Stores located in the town of St. George 45 minutes away.
Silver Reef Ghost Town located off I15, a quick 45 minutes drive.
Snow Canyon State Park, 1 hour
Area Golf Courses within 1 hour drive
www.utahsdixie.com/navgolf.html
Tony Award winning Southern Utah Shakespearean Theater 1 hour drive
Coral Pink Sand Dunes State Park - 1 hour. Off Highway Vehicles allowed in some parts of park. Coral Pink Sand Dunes is the perfect name for this state park, located off US 89. Open all year, the park is a wide-sweeping expanse of coral-colored sand, drifted into dunes just begging to be climbed.
Pipe Spring National Monument- 1 hour drive
Brian Head Ski and Biking Resort - 1 1/2 hours
Duck Creek Village, 1 1/2 hours
Cedar Breaks National Monument - 1 1/2 hours. Carved into the western edge of the 10,400 foot-high Markaqunt Plateau is an amphitheater of colorful spires and columns. It plunges 2,500 feet deep as it scoops away three miles of the green alpine meadows, revealing various shades of red, purple and yellow rib-boned through the eroded limestone.
Kodachrome Basin - Part of the Grand Staircase Escalante National Monument - 2 hours. Unique spires and chimneys called sand pipe intrusions jut up from the valley floor creating a surrealistic setting. Their colors change during the day and they seem to glow at sunrise and sunset.
Bryce Canyon 2 hour drive
Panguitch Lake 2 1/2 hour drive
Glen Canyon National Recreation Area (Lake Powell) 3 1/2 hour drive
pricing:
The Bunk House has 2 rooms, the Country Room and the Southwest Room. Rooms may be reserved with a private bath or a shared bathroom.
Room Rates: High season: $55-$80/night.
Low season DISCOUNT: $45-$75/night. Rates include breakfast
High Season is from the Easter Holiday through the Columbus Day Holiday in October.
contact details: please contact owner for further details:
Your Hosts: The Ortons
Bunk House at Zion Bed & Breakfast
Meg-N-Bo Enterprises
149 E. Main Street
P.O. Box 630146
Rockville, Utah 84763-0146

Tel. (435) 772-3393
Mountain Time Zone
email: ReduceReuseRecycle@bunkhouseatzion.com
(checked daily)
website: www.bunkhouseatzion.com