ethical accommodation
ikiam expedition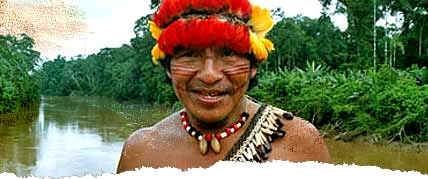 description: We are the Shiwiar people, enclosed by the Amazon jungle, living on the Pastaza river. We belong to the same cultural and linguistic tradition as the Achuar and Shuar. Our territory is one of the most pristine and isolated places in the Amazon basin, located near the Peruvian border and accessible only by air. Our primary forest is blessed with remarkable levels of biodiversity. Our population of seven hundred is scattered around nine different villages within the area. There have been few intrusions into our territory and we have only recently made contact with the western world (because of the Peruvian war in 1941).

Sadly, the Ecuadorian Government does not value or respect the indigenous people of the Amazon. In search of short term profit they would shamelessly sell our land to multinational companies, irrevocably destroying the ecosystem and our culture. After a long political struggle, Ecuador legally recognised us as an independent nationality, and grated us 89,337 hectares of land. However, we still have 100,000 hectares of ancestral land to legalise.

Oil was found on our territory during an exploration campaign made in the 1970's.Thankfully it is still untapped, however we fear that it is only a matter of time before our territory is sold, exploited and destroyed. It is therefore imperative that our land is legalised. Our political representatives, the ONSHIPAE (Organizacion de la Nacionalidad Shiwiar de Pastaza Amazonía Ecuatoriana), together with the Pachamama Alliance, are struggling to obtain legal recognition of our territory, but it is a difficult and expensive fight. We hope that ecotourism will generate the funds, support and international awareness needed for us to succeed. We believe it will also emphasise the importance of our environment and cultural traditions to our people, and will generate hope and self respect within our community.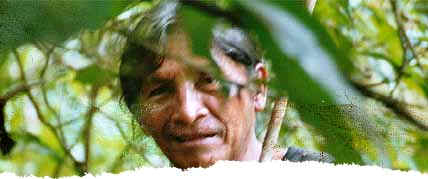 This is your chance to discover an unspoilt region of the Amazon rainforest, to really leave the beaten track behind and to immerse yourself in a culture that belongs to the forest. You can experience the incredible biodiversity of the area, and find real warmth without luxuries. But this is an opportunity offered by a variety of agencies. What makes our project different is that it offers you the rare opportunity to escape the false "ecotourism" trap, where community events are staged and the business is own by foreigners, channelling profits into their businesses not back into local hands. But not here. Shiwiar Ikiam is completely self-managed and locally owned. You will not be invading or disrupting our culture but helping to preserve it. Our expedition offers you a wonderful opportunity to experience the jungle as it is, but more importantly to give something back to a community.


Where will I Go?
The Shiwiar territory is rather big. Ouf of all our territory, we elected the communities of Tanguntsa y Juyuintsa to receive the Ikiam expedition, being the newest and the most isolated and therefore holding the highest levels of biodiversity. Tanguntsa is composed by 4 families (18 people). This is where we built two typical houses to welcome you.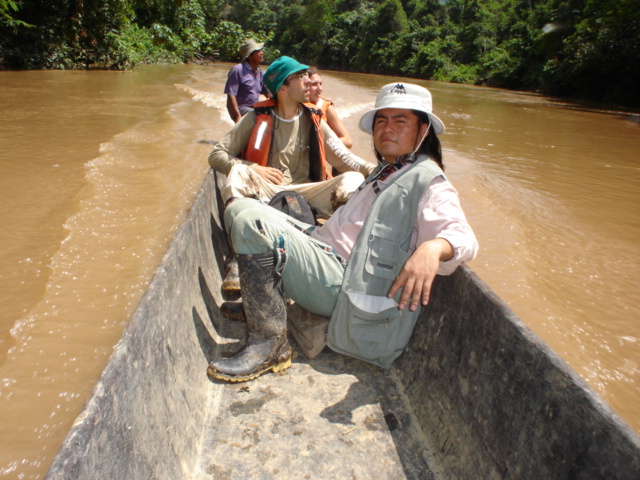 Who should go?
If you have a strong interest in the fantastic biodiversity of the Amazon rainforest, if you are not afraid of the lack of western comfort and if you are sufficiently open minded to interact with a very different culture, then this expedition is for you. Visitors should be in reasonably good physical condition You must read and accept the code of conduct before booking the expedition.


What will I do there?
What you choose to do is completely up to you, this is not a travel agent's tour and you will not be stuck to a fixed agenda. We can take you on canoe trips down the river, teach you how to harvest and plant yucca, make handicrafts, and build traditional houses. We will prepare our customary food for you, share our legends and cosmogony with you, and demonstrate the use of medicinal plants. You could also spend the night camping on the river bank, if you wish. You will have the chance to see dozens of plant and animal species, and to relax listening to the forest symphony.


What will I eat?
We currently eat what we hunt, fish, harvest from our chacra or collect from the forest. Nevertheless as we do not want to put more pressure on the wildlife of our territory, you will have to mostly eat western food. Don't worry, you will have the opportunity to taste our local fish and yuca, and we will offer you plenty of chicha.


Where will I sleep?
You will sleep in a bed inside a traditional house specially built to receive visitors. Don't worry, we will provide you with a good mosquito net. Nothing fancy but very typical.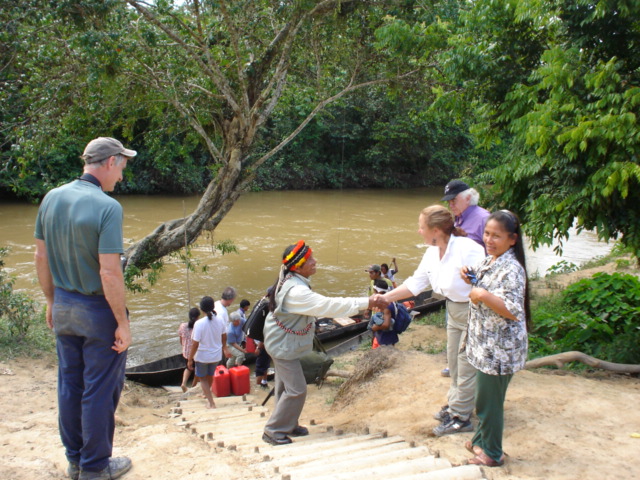 What should I bring?
To fully enjoy your stay, we recommend you to bring light clothing, long sleeved shirts and trousers, several pairs of socks, rubber boots and a spare pair of shoes. Insect repellent, efficient sun block, hat, sunglasses, a rain coat or rubber poncho and a bathing suit are essential. Malarial prophylaxis (Chloroquine or Mephaquin) are also indispensable.

Of course don't forget your camera with films, binoculars and a flashlight. Lots of plastic bags are essential to keep things dry. Extra precautions are necessary for digital cameras (it's very humid in the forest!). Reading a book with the sounds of the jungle around you is something you are bound to enjoy.

Above all, remember that you must pack lightly as there is not a lot of space in the plane!


How long can I stay?
The duration of your adventure is up to you. We recommend a stay of 5 days/4 nights to be able to fully enjoy the forest and our culture, but people can stay much longer if they wish.


Is it safe?
There is nothing to be afraid of, but obviously you need to be cautious. Do not go in the forest alone, touch branches or leaves without checking first that nothing is sitting on them, or put your hands into holes. But remember that you are with indigenous people who know the forest, and that it is far less dangerous than people usually think!

There is however a low risk of malaria, as in other parts of the Amazon. The use of repellent is therefore strongly recommended. While the risk is low here, prophylaxis are essential, and if you have any questions we recommend that you seek professional advice.

In case of an emergency, we have a radio that we can use to call for an aerial ambulance.


How do I get there?
Our territory is located in the province of Pastaza, in the Ecuadorian Amazon region, and is only accessible by plane from Puyo (Shell).

To access the site from Quito, you can take a bus up to Puyo (5 hours- US$ 5), where you need to change and take another bus to the village Shell (15 minutes-US$ 0.25). It is also possible to fly from Quito to Shell (1 hour - 100 US$).

From Shell you need to take a flight to Shiona (1 hour and 5 minutes) in a Cessna (5 passengers maximum). We will welcome you at the air strip and take you to our village of Tanguntsa by canoe (half an hour).

The price of the flight depends on the number of people in the plane. It is currently set from a minimum of 400 US$ return per person, depending on the number of passengers.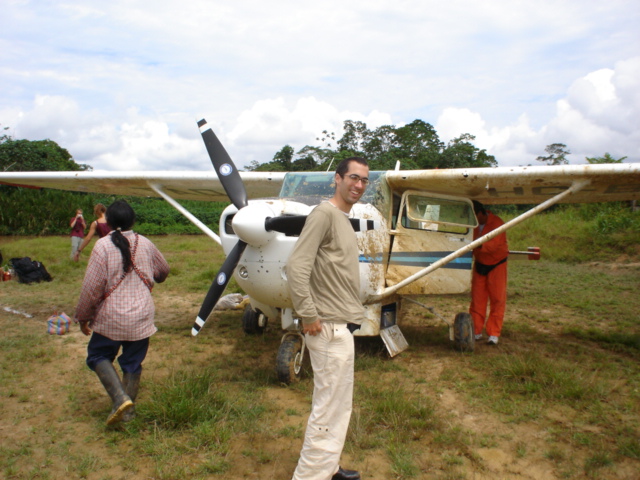 How much does it cost, and where will my money go?
The expedition costs 45US$ per person daily, this includes everything (accommodation, guide, canoe, and food) except the plane. The flight currently costs from 400US$ per person (depending on the number of people in the plane).

Once the operating costs have been paid, all benefits are used to fund the work of the FUNSSIF and the ONSHIPAE, who are fighting to legalize our territory and conserve its biodiversity. Therefore your money helps to protect the rainforest and its inhabitants, while allowing you to have a great time. How can you spend a dollar more happily?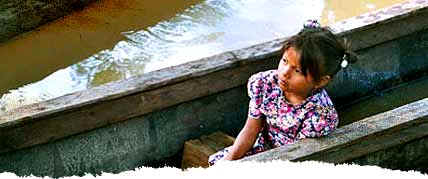 The vision: Our primary objective is to defend our territory from oil exploitation, preserve its biodiversity and our culture through self managed development. These are our objectives, initiated by our people, they have not been imposed by outsiders. The Ikiam Expedition is our project, initiated by Pascual Kunchicuy (a Shiwiar), the founder of "FUNSSIF" (Fundation Shiwiar Sin Fronteras). The initial impetus originated from the tribe itself, but the project only really took off in 2004 with the aid of Pascal Languillon (the founder of the French "Association Vers un Autre Tourisme"), who provided the detailed knowledge of the outside world and gave the project a distinct vision.

The project vision is to propose a new form of ecotourism, where the tourist is not just a tourist, but a real actor of its own adventure. We want to offer a different kind of tourism, not based on a capitalistic model but rather on responsible tourism principles. This expedition is for people who don't usually like tours. Here you will not be seen as clients, but rather as friends who has come to help us out.

What we care the most about is to maintain the reality of our place. We do not want to perform cultural acts like shamanism rituals just to please tourists. We do not want folklore. We just want to show you our place and our current way of life.

To make this vision come true, we have decided to make you live this experience as if you were a Shiwiar. We will not provide a fancy restaurant nor expensive cabañas. We are not going to create a pocket of your world in the jungle. We believe the experience we are offering is far more real and far more valuable, because we are offering the genuine opportunity to experience our culture and our way of life. You will be invited to participate in daily activities as part of our family, from making ceramics and arrows, walking in the forest and swimming in the river. We have not designed a program for people who want a comfortable tour, we have opened our community to people brave enough to participate in it. To achieve this the number of visitors will be restricted to five per week, but as the project is still in its infancy you will probably be on your own.

The project has received some financial funding from the Ecuadorian CODENPE and the U.S Agency of International Development. We are however still looking for more financial and technical support. If you or your organisation is interested in helping please contact us, we will be grateful for anything you can offer.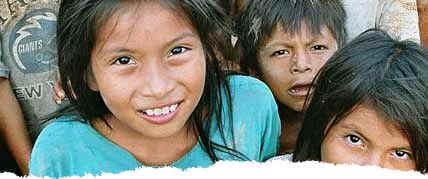 Ethics: - You do not go see a jungle tribe as you would go visit your neighbouring community. Certain customs of your culture might be inappropriate for us. We therefore have written a visitor's code of conduct that we ask you to firmly respect while in the forest. If you do not agree with this code of conduct, please forget this expedition, as it would mean that you are not ready for the adventure.


General attitude
Always remember that you are a visitor and that you have to show respect to your host at all times.
Always remember that our culture is very different to yours and that you have to accept it for what it is.
Always keep in mind that you are dealing with people who have had few contacts with the "outside world". Be careful of what you say. For instance do not talk about money.
You are here to learn about the Shiwiar culture and the forest, not to contaminate people with materialism.
Chicha is always offered. If you do not like it, you should at least pretend to drink it. Refusing might be considered an insult.
You should not take photographs without asking for permission. This can be very annoying and disrespectful to your hosts.
Do not make promises you will not accomplish (like sending photos).
You should not physically touch people, including the children. No hugging please!
You should not give money, presents, or sweets to the local kids.
Avoid public display of affection.
You should not enter houses without permission.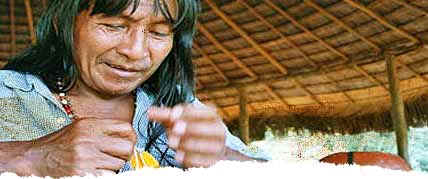 Respect of the environment
Do not leave trash anywhere. If you carry something in, you should carry it out too, as there is no waste disposal in the Shiwiar territory.
It is strictly prohibited to take any plant, seed or animal from the forest. It is also prohibited to expropriate or patent the extract or plants or seeds.
Please be kind and accept to take out plastic bottles and old batteries that we may give you to bring back to Puyo.


Things you can do to help us more
You can buy our beautiful handicrafts and ceramics.
You can give medicines to our office to constitute a useful reserve that will be managed by our health director: Francisco Cuji.
You can give notebooks, pencils, paints, maps for the children's school.
You can give clothe that you don't use, and that is always welcome for our children and adults.
You can donate money to the FUNSSIF and to the ONSHIPAE.
You can tell people about our fight to preserve our environment and culture, and urge your government to act to protect the rainforest.



A message to those of you who are afraid of the social impacts that you could generate:

Some of you might be thinking that coming here as a tourist is going to disrupt our lives, change our values, destroy our ancient culture, and that it should be avoided. The truth is that we have decided to welcome tourists as a conscious choice to evolve and take our future into our own hands. You would maybe rather have us wear our traditional clothes or hunt only with blowguns just as before, to be more in tune with your romantic idea of life in the forest. But guess what? It is too late. We wear western clothes, we use flashlights, we already see planes flying over our heads, and we are aware of the forthcoming oil pressures on our territory. Our world is changing, but we want to remain in the forest and to keep our culture alive, without having to fight against oil workers to protect our rights. And we want you to help us out!

location: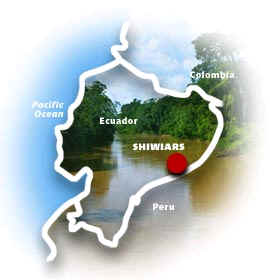 contact & pricing details:
How to contact us

To book an expedition or get information:

Contact Pascual Kunchicuy
From Abroad: (593) 9 832 3637, or (593) 9 769 2988
From Ecuador: 09 832 3637 or 09 769 2988

eMail: shiwiarfund@hotmail.com and ikiamp21@hotmail.com