la maison du vert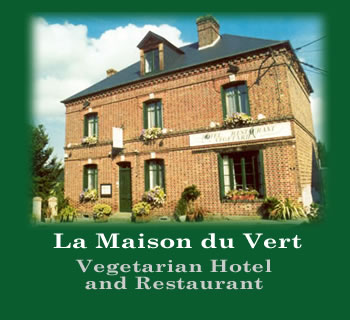 property description: We are right in the heart of the beautiful Normandy countryside in the small village of Ticheville. The hotel was built at the end of the 19th century and originally served as the village bakery. It is set in 2.5 acres of beautiful organic flower and vegetable gardens with an old columbage "pressoir" (cider press) and "cave" (fermentation house) as well as the old wash house for the village. We offer lovely en-suite rooms with spectacular views along the unspoilt Touques Valley. We have 3 large double bedrooms, one is a family room with double and single bed with an extra bed or cot on request. There is a choice of private bath or shower room en-suite.
All our rooms are beautifully furnished to a high standard and are cleaned daily for your comfort. There is always a vase of fresh cut flowers from our garden in the bedrooms.
surroundings: The 2.5 acre garden overlooks the Touques valley with wonderful views of the Normandy countryside. Our garden slopes gently downhill to the river Touques, so the other side of the valley almost appears to be part of our garden. This area is very lush with hundreds of shades of green. We are very fond of Herbaceous perennials which feature largely in the garden. We are creating a series of garden rooms with different themes. We have started to plant a hedges of different types to separate the rooms in beech, hornbeam, box and yew.
Around the terrace area where we serve meals during warm evenings we have colourful mixed borders. Shrubs with good form and flower such as Hebe, Weigela, Cistus, Lavender, Viburnum and Ceanothus. Interspersed with herbaceous spikes of Delphinium, Lupins, Campanulas, Salvias and added colour from Californian and Shirley Poppies, Godetia, Clarkia, Echium, and many more
contact details:
Ticheville
61120 Vimoutiers
Normandie
France
TÚl: +33 (0)2 33 36 95 84

eMail:info@maisonduvert.com
Proprietors:
Debbie & Daniel Armitage