ethical accommodation
La Mohea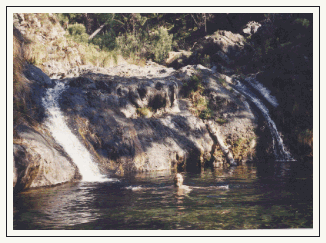 property description: We offer you the opportunities for exploring the area and relaxing, learning new skills and sharing an environmentally-friendly lifestyle. You can gain experience in organic gardening, forest management, tree care and propagation, biodynamic techniques, permaculture design, bread-baking and making fruit and vegetable conserves. We'll take you to visit the neighbouring farms and swim nearby in our favourite plunge pool below a waterfall
accommodation: Accommodation is in single or double rooms in converted stables, or a dormitory in the farmhouse, depending on available space. Facilities are basic, but slowly improving!: outdoor compost toilet, outdoor bathroom, with solar hot water from April - October and water heated on the fire in wintertime. Meals are eaten communally and are vegetarian, though we can also cater for vegans.
location: Finca La Mohea, Genalguacil, 29492 Málaga, Spain
prices: You join in the daily farm tasks 3 days a week, and spend your time as you please for the other 4 days, for a weekly charge of 25,000 ptas (£100) for full board and lodging.
contact details: If you wish to apply for a place in our volunteer programme, please write to us direct at the farm:
Finca La Mohea, Genalguacil, 29492 Málaga, Spain.
or send us an e-mail: email@lamohea.com