L'Arc en Ciel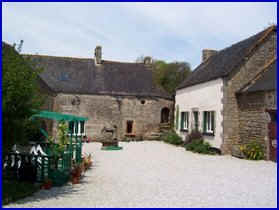 property description: Our aim is to welcome anyone who is in need of excellent accommodation, superb food, good company, rest and relaxation. Each guest suite is tastefully decorated with great attention to detail, and located privately in its own building. All are large, with sitting areas, table & chairs, superb en-suite facilities, and much, much more.
Open all year round, we offer B & B accommodation with optional evening meal. Rooms are all fully self contained and private. There are 2 evening meal options - "table d'hotes" & "a la carte", allowing guests the opportunity to eat with our family in a traditional French way, or to partake of a more formal 3 course meal (with complimentary wine) plus coffee, in our delightful guests dining room.
We run a very holistic based B & B, growing all our own organic produce where possible and buying from organic fair-trade organisations for things we cannot grow. We are extremely conscious of the need for local involvement and for participation in cultural & ethical considerations. In addition to the B & B, we also offer retreats and will shortly be running eco-friendly building courses in straw bales and Yurts for example.
Once a week at present we offer a "drop-in" meditation session for local people, which is proving very popular and we are in the process of converting a barn to accommodate the growth of this activity. Yoga courses will then also be offered here.
On the evironmental front, we do whatever we can to live & work in a sustainable way. We have our own water source here for example (which, whilst not suitable for drinking, is used to water the vegetable gardens) and hope to install geothermic heating in the future.
Our personal & commercial commitments are to pursue life in a natural way and aid to others in doing the same, without the prime motive of profit maximisation. For example, all our meditation, yoga & eco building activities are offered either on a donation or minimum cost basis to allow anyone who is interested to participate.
location: We are located in a tranquil position approx. 1km from the local village, Langoelan. Surrounded by fields, meadows and woodland, the setting offers guests a rare chance to escape the hustle and bustle of everyday life, although the nearest town, Guémené-sur-Scorff, has a number of bars, restaurants, and shops. The larger town of Pontivy, with its railway station, Nantes-Brest canal and imposing castle, is a 20 minute car journey away. The north & south Brittany coasts are both within an hour's drive, offering sandy beaches, stunning scenery & famous stone megaliths.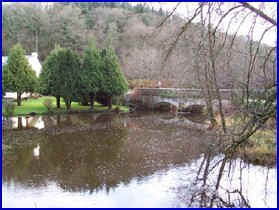 Reached via the ferry ports of Roscoff & St Malo or the airports of Brest, Rennes & Dinard, we are ideally placed wherever you find yourself travelling from.
Where Nature meets Activity: The whole of the area abounds in nature, wildlife & history, whilst also offering many activities for the holidaymaker.

Nantes-Brest canal & Lac Guerledan: We are situated within a few km of various sections of the canal, offering beautiful walks, cycling & canoeing. Lac Guerledan with sandy beaches, boat hire, water skiing, delightful wooded walks & bars/cafes, is a short car drive away.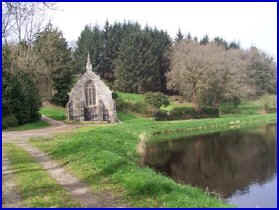 Beaches: Both north & south coasts are within easy reach and offer superb sandy beaches, working fishing ports & sailing activities.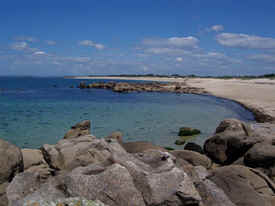 Towns & Villages: In true French tradition, Brittany is blessed with many delightful towns & villages - from Vannes in the south with its medieval centre & cathedral, to Pont Aven, the favoured haunt of the painter, Paul Gauguin, to the walled city of St Malo in the north, you are sure to stumble upon interesting places to visit at every turn. We have a wealth of knowledge of places to visit, so whatever guests are looking for, we are here to help.
pricing:
B & B:
30 - 39 € per person per night dependant on season.

Evening Meal:

Table d'hotes 15 € per person

A la Carte 23 € per person

Romantic Breaks:

From 275 € per person for a 3 night break.

Additional nights from 80 € per person per night

Retreats: Please contact us for details
contact details: please contact owner for further details:
L'Arc en Ciel, Guernendalen, 56160, Langoelan, Brittany.

Tel:
From UK: 0033 297 512 405

From France: 02 97 51 24 05

eMail: enquiries@vegetarianfrance.com