la roche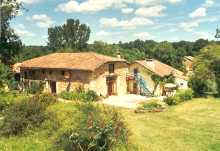 property description: Laroche, once a small farm on the estate of an 18th century château, is surrounded by 5 acres of garden, woodland and meadows. Walk or cycle through a peaceful landscape of varied countryside of hill and valley, chestnut and oak woods and small farms.

Nearby Brantôme has a beautiful riverside setting and many cafés and restaurants. Villars, the next village, has interesting caves and a Renaissance château. Périgueux, the Préfecture of the Dordogne, is 30 minutes drive away and has a finely restored and lively old town.

There are tennis courts nearby and a swimming-pool in Champagnac de Belair. Enjoy lake swimming in the area and canoeing on the nearby river Dronne or further afield on the spectacular river Vézère. Nontron and Brantôme hold weekly markets and there is a village shop in Quinsac.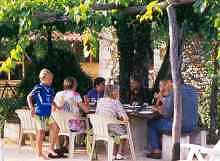 When our ancesters roamed over Europe 30,000years ago they had excellent reasons for choosing to settle in the Dordogne region.Today you can visit the caves and shelters where they lived. There, your imagination will give you some idea of what it was like to be alive at that time. Périgord Vert is more peaceful than the southern areas of the Dordogne. Visit these easily on a day out and return to relax at Laroche!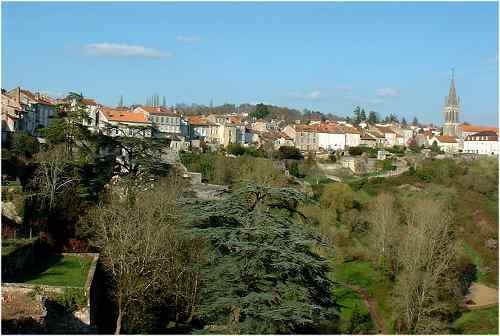 About 50 metres up the slope from the house, the 10m.x 5m. pool is superbly placed with lovely views over fields and woods. (The pool is now fenced to comply with French law.)

Relaxing on the terrace above the pool, shaded by vines or parasol, one feels in harmony with the beautiful landscape.
Nearby are a boules piste, badminton net, table tennis table and of course, the animals - currently three donkeys, two goats and hens. The animals are great attraction for children, especially at feeding time!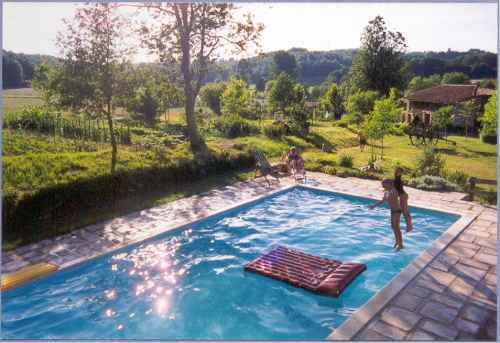 The cyling is wonderful around here, so whether you are a keen or an occasional cyclist, come and enjoy the ever changing landscape on good surfaces with little traffic.

In the fields and woods around there are orchids in spring and early summer, champignons in autumn. Wildlife is abundant:- deer, wild boar, badgers and a multitude of smaller mammals; swallow-tail butterflies, praying mantises and glow worms --- over 80 bird species have been spotted around Laroche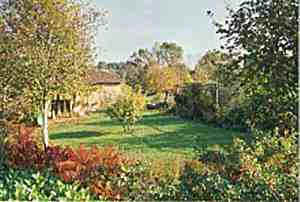 accommodation:
Self catering gite for up to 8 people
The ground floor
(May be rented separately: 5 people maximum.)
Large living/dining area
Kitchen, equipped with:-
Gas/electric hob with extractor hood
Electric oven - (new 2001)
Microwave
Fridge/freezer (new 2000)
Washing machine - (new 2001)
Large bedroom: with one double and one single bed
Second bedroom: with double bed
Bathroom: bath/shower, handbasin and toilet


The first floor: (Reached by outside staircase)

Large bedroom: 6m.x 4m., with one double and two single beds

Shower room: with shower, handbasin and toilet
(The first floor is not let separately but, with your agreement I may use it overnight on rare occasions if you have just taken the ground floor)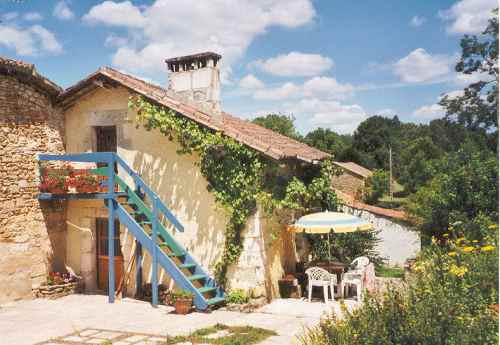 Outside are table and chairs beneath an old vine, and a table tennis table.

In the shade of trees are another table, plenty of chairs and a barbeque.

There is a selection of home-grown garden produce, honey and various home-made goodies for sale.

Bed and Breakfast
The high ceilinged living and dining area is reached by a short flight of stairs from the guest entrance.

On either side are the guest rooms; both have a shower / wc room.

Bedroom 1 is 3m.x 5,70m. and has two single beds.

Bedroom 2 is 4m.x 4m. and has a double and a single bed.

A third bed for a child is possible in the double room.

Both rooms have tea and coffee making facilities and the double room has a small fridge.

Whenever possible breakfast is served in the garden, at a large table shaded by an ancient vine.

In the flower garden are chairs for guest house visitors.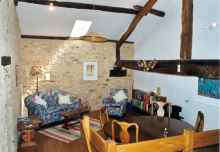 pricing 2005:
Self-Catering Accommodation (Gîte)

Prices for one week - up to eight people:
14th May -9th July; 27th August - 24th September; 790 euros
9th July - 27th August; 990 euros


The ground floor may be rented separately - up to five people
26th March-14th May; 24th September - end October; 450 euros
14th May - 9th July; 27th August - 24th September; 580 euros
9th July - 27th August 790 euros

The gîte is let from Saturday to Saturday in the high season. Out of main season, other lets can be arranged, including shorter stays and special prices for long lets.
November - 26th March: prices by arrangement.
The whole gîte is priced for 8 people
Please confirm bookings by a deposit of 20%.



Guesthouse -- (Chambres d'Hôtes)

Bed and Breakfast per night:

For two - double or twin; 65 euros

For one; 36 euros

Triple (one double and one single bed); 80 euros


Discount of 10% for 6 nights or more.

location and travel: Plan your route: www.viamichelin.com is excellent. Enter destination as Quinsac / 24530 / France

Ferry prices seem to have gone up a lot . Check fares with www.ferrybookers.com

Portsmouth/Poole crossings:- Easiest drive is from St Malo, next easiest is Caen, then Le Havre. Longest drive, Cherbourg

If you live in the West Country, then the Plymouth- Roscoff crossing makes sense; a long drive on good clear roads in France avoids a trek along the south coast to Portsmouth.

If you are doing the short crossing via the tunnel or ferry, check on what traffic is likely to be like, especially at weekends in July and August round Paris.

Alternatives are:-

With hire car:-

Eurostar to Angoulême via Lille or Paris (cross Paris on the metro): www.raileurope.com or www.eurail.com

Fly Flybe/Ryanair to Limoges or Bergerac, (both about 1hr 15minutes drive from Laroche) or even La Rochelle if you want time on the coast.

Another possibility:-

Take your car on the train from Britain to Brive overnight. Brive is 100 km (60 miles) from Laroche. A family of five found it similar in price to flying to Limoges + car hire and the children thought it super!

" Bonne Route! "
contact details: please contact owner for further details
Alison Coutanche
Laroche Quinsac
24530 Champagnac de Belair
Dordogne
France

Phone: +33(0)5 53 54 22 91


eMail: allisons@club-internet.fr