las palapas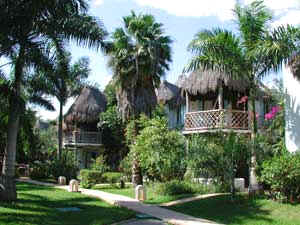 property description: Nature has treated Hotel Las Palapas with 13 miles (20 kilometers) of Playa del Carmen's white sand beaches, fringed by turquoise, crystal clear Caribbean water and abundant tropical vegetation. In this wonderful environment, Hotel Las Palapas offers you a paradise of relaxation and tranquility where you can get away from it all and leave the pressures of everyday life behind.

Just imagine relaxing in your hammock on your terrace, finally reading the book you've always wanted to read. Or lying on the beach, in the shade of a palapa, listening to the sound of the ocean and finding yourself in another world. Or strolling through our tropical gardens and discovering a new plant or flower every day. Or walking down the beach to enjoy Playa del Carmen's international shops, restaurants, bars and discos. Hotel Las Palapas' staff is ready to make your vacation perfect.

We look forward to welcoming you to Las Palapas Hotel Playa del Carmen. You will have a vacation in Mexico that you'll never forget.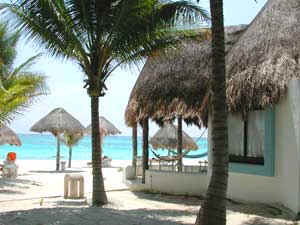 At Hotel Las Palapas you will have the most relaxing Mexican Caribbean vacation you can imagine. All our hotel rooms are surrounded by lush tropical gardens, and some of them even by the best white sand beach in Playa del Carmen!

In order to provide for you an atmosphere of total peace and tranquility, our rooms have not been equipped with TVs. The telephones are mainly used for communication with the reception. Many rooms have air conditioning. Mini bars are available on request. Hair dryers are available in all rooms.

We call our rooms "cabaņas". The room categories:
Beachfront

7 beachfront bungalows with thatched roofs, situated directly on the white sand beach. Equipped with 2 queen size beds, ceiling fan, bathroom with shower and private terrace with hammocks and armchairs.

No air conditioning available in beachfront rooms.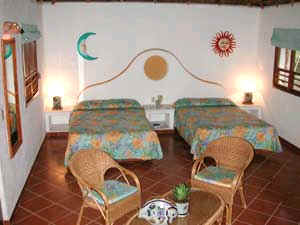 Standard

48 standard rooms in one or two story bungalows, all with lovely views of our garden. The hotel rooms in the one story bungalows and the upper rooms of the two story buildings have thatched roofs. Equipment and size of the standard rooms are equivalent to the beachfront rooms.

Many of the standard rooms have air conditioning.

Garden Deluxe

20 garden deluxe rooms in one or two story bungalows, located in a natural tropical environment in the back part of the hotel. These rooms have an additional sitting area with sofa bed and are considerably larger than the beachfront and standard rooms. The rooms in the one story bungalows and the upper rooms of the two story buildings have thatched roofs.

Many of the garden deluxe rooms have air conditioning.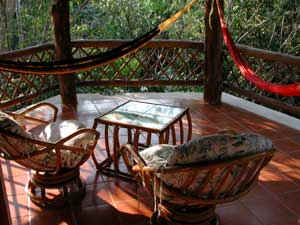 Hotel Las Palapas is a special place for nature lovers - not just because of our beautiful beach, but also because of the dense jungle vegetation on the land that the hotel was built on.

Only 25% of our land has been used for construction. A large portion is covered by lush tropical gardens, and a full 30% of the grounds is completely untouched.

That's why you see and hear many species of colorful birds, meet lizards quite often, and see plants that only grow in the jungle.

There is a nature trail on the hotel grounds where you can discover many of our natural attractions. On this trail you will even find a cenote, a natural well typical of the Yucatan Peninsula.

And when you climb to the top of our observation tower you will see how well Hotel Las Palapas mixes with the natural environment.

We recommend that you take a tour during your stay at Las Palapas so that you can appreciate the natural beauty of Mexico's Caribbean coast.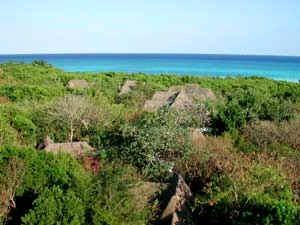 tours and things to do: we offer a number of different tours:
Should you feel like exploring the beautiful Riviera Maya, there are various possibilities for day tours and many places that you can visit on your own from your home base in Hotel Las Palapas.

Playa del Carmen

The center of Playa del Carmen is within walking distance of the hotel. Here you will find many shops, restaurants, and bars. Enjoy strolling through the lively town, or get some excitement at one of Playa del Carmen's discos or bars!

Cancun and Isla Mujeres

Cancun is only about an hour's drive north of Playa del Carmen. There are public busses departing for Cancun every 15 minutes, or take a taxi anytime you want to go. From Puerto Juarez, which is just north of Cancun, there is a ferry that takes you to the quiet tropical island of Isla Mujeres.
Cozumel

The island of Cozumel lies just across from Playa del Carmen. The ferry terminal, where there are regular ferries to Cozumel, is located in downtown Playa del Carmen and can be easily reached by taxi or on foot.
Xcaret and Xel-Ha

These nature parks are salt water inlets where you can snorkel, relax on the beach, visit underground rivers or discover the fascinating culture of the Maya during an interesting show at night.

Xcaret is only a few miles from Playa del Carmen, Xel-Ha around 50 miles (80 kilometers) from Playa del Carmen, near Tulum.

Archeological Sites

While staying at Hotel Las Palapas, you may want to visit one or more of the famous archeological sites on the Yucatan Peninsula. The Tulum Mayan ruins are situated directly on the Caribbean Sea, only an hour's drive south of Playa del Carmen. Coba, the Mayan site with the highest pyramid, is a little bit further inland. And even the most famous, largest and most important city of the Maya, Chichen Itza, can be visited from Playa del Carmen in just one day.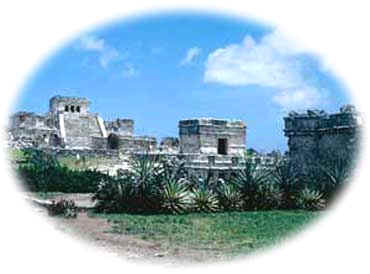 location:
30 miles (50 kilometers) south of Cancun International Airport, Hotel Las Palapas is nestled amidst a natural environment of beautiful white sand beaches and lush tropical gardens.

Conveniently located about 1/2 mile (1 kilometers) from the center of Playa del Carmen, Hotel Las Palapas represents the best of both worlds - the excitement of Playa del Carmen and the beauty and serenity of its beaches.
Directions from Cancun Airport to Hotel Las Palapas in Playa del Carmen, Mexico

Archeological sites like Tulum, Coba and Chichen Itza Mayan ruins can easily be reached from the hotel, as well as the nature parks Xcaret, Xel-Ha and Tres Rios. Also, there is a regular ferry service from Playa del Carmen to Cozumel Island.

Tranquility, the emerald green waters of the Mexican Caribbean, long stretches of white sand beaches, and the tropical atmosphere of our bungalow resort will make your vacation dreams come true!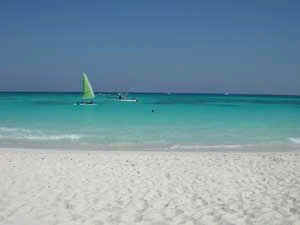 pricing and contact details: please contact owner for further details:
Hotel Las Palapas
Av. 34 Norte s/n, 5a. Av. y Zona Federal Maritima
Apartado postal 116
Playa del Carmen
Quintana Roo 77710
Mexico

Phone: ++52 (984) 873 42 60
Fax: ++52 (984) 873 04 58

E-mail:
Reservations: reservations@laspalapas.com
Information: info@laspalapas.com

General Manager: Pierre-Andre Ruegg